Kittens, Kittens, Kittens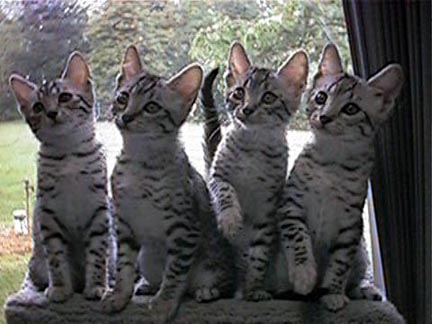 (Be patient - lots and lots of pictures so you can see the current babies progress towards the day they fly the nest... at the bottom of this page are links to each of the girls previous litters. This page gives pics and updates on current litters)
| | |
| --- | --- |
| | I am told you can have a clutter or a clowder of cats.... Still, I like a slew of spotted things....!!! These lovelies were from Spirit and Comet |
Spots Spots Spots -
Three Generations of Superstars left to right...

GC BW NW Emau's Touch The Sun, DM (Lark)

GC BW NW Emau's Drop-Of-Golden Sun, DM

and the first Egyptian Mau to go from Open to Grand in one show Lark daughter - GC Emau's Gossip Girl
Spots on the ground
Current litters can be seen on Facebook - Emau Egyptian Maus,
GC Emau's Material Girl (London) - two silver boys! Pictures on Facebook, Emau Egyptian Mau page
Emau's Vogue, DM (Lisbon) - two super exciting babies - a breathtaking smoke boy and a stunning silver girl with unbelievable contrast. Pictures on Facebook , Emau Egyptian Mau page
Spots expected:
GC Emau's Soul Storm Of Aion (Anima) - lovingly owned by Dena.
GC RW Emau's Rumor has It (Rumor)
recent litters:
---


Check out our Cattery page on Facebook! Emau Egyptian Maus!
A peek at Previous Litters.....
For a look at some fabulous kittens our girls from past and present have given us from previous matches, click on the mother below, and sit back and enjoy! Be prepared - lots of pictures - it takes WHILE to load, but is, we hope, worth the wait - take a break, get a snack, let em load and come back and enjoy!!
Kitten Pages for the "Girls" Click on names below to see notable kittens from the girls... Some of the girls share their day to day lives with friends now, so that they can all receive the love and and attention they deserve, but each is no less loved and cherished... And four very special girls grace my home with their beauty...
Current girls:
Dior - Jewel and Apollo's spotty daughter - a white silver
London- my busy, willful and oh so smart daughter from Dior and Ru... so elegant, so refined...
Lisbon - This Dior/Ru daughter is incredibly balanced and oh so sweet

Girls owned by others who make us just as proud even though we do not get to enjoy their presence every day!
Dreamy - Wren's Lovely daughter and our first third generation National winner!
Echo - The incredible Dreamy repeat!

Retired now, they gave us such beauty and grace and left a legacy of untold proportions for their breed....
Khepri - Our first love and number one queen
Pounce - The Pouncess herself after her show career she worked her magic with fabulous babies... Check out her beautiful kittens!!
Kyrie - Our elegant, and incredibly intelligent Kyrie bird...
Sunny - GC BW NW Emau's Drop-Of Golden Sun, DM - My treasure from Pounce
Lark - GC BW NW Emau's Touch The Sun - The legacy from Pounce continues in Sunny's edgy daughter
Wren - a gift from Lark.... My little Yellow Rose... cat of my heart and a beauty inside and out
Bianca - Lovely daughter of Minuet and Dell with the body of steel
Cheetah - Elegant Cheetah
Spirit - Our intense Spirit with the haunting eyes
Comet - Bump had the sweetest babies....
Pyramid - Cheetah and Soleil's ethereal and everlastingly sweet daughter.
Porsche - Our lovely lady from Germany.
Karma - Cheetah and Ghost's contrasty and elegant daughter!!
Future - Future loved having babies!
"M" - Sweetness and light, the lovely Miss M....
Puzzle - Another Illusion daughter with the one-of-a-kind expression and a will of steel...
Little Bit - the most elegant, sensitive creature to grace our home. She wears her heart on her sleeve
Raven - Kyrie's soulful daughter with the dreamy eyes
Faith - Haunting, ethereal and lovely Faith
Bug - A perfect lady with a sense of humor - what more can you ask for?
Hope - The happy, loving and ever sweet Hope seems to be giving us babies much like herself
Angel - Pounce incarnate... Huge, eyes, ears and will on a long graceful body...
Kali - Our lovely gift from Maullenium - Kali now lives with Brenda in Richmond and rules the household!
Wishes - Our cheerful, happy Pounce daughter with huge green eyes and a body of steel under satin
Illusion - Spirit's soulful daughter - Retired
Ginny - Our overseas girl - now owned by Cindy in Australia
Joy - Her grandmother incarnate????
Selene - Little Bit's complicated and beautiful daughter
Minuet - GC BW NW Emau's Minuet - First Hope's Spotty daughter
Lexi - Wrens elegant smoke daughter.
Giselle - Little Bit's elegant daughter
Hope - Lovely daughter of Minuet and Dell with the beautiful paint job and huge green eyes!
Jade - GC BW NW Emau's Strike A Pose Of Emauge - I bred nearly two decades to get a cat that came close to Pounce... this heartbreaking beauty is the closest I have ever come
Jewel - GC RW Emau's Covergirl, DM- Full sister and littermate to Jade, Jewel knows no strangers, is reasonable and smart with a bit of her mother's edge... the perfect combination
Rowan - Emau's She's Got The Look- From Khepri, to Pounce, to Sunny, to Lark, to Jade, the legacy continues in this feisty loveable and breathtaking beauty



We generally run a waiting list that varies from a few months to over a year. In "normal" times most kittens are "spoken for" before they are born, many before they are conceived... They are worth the wait though - special kitties, one and all, they steal MY heart on a daily basis... Usually all kittens on the ground are currently pre-reserved as are all of the litters already conceived. Every once in a while a kitten will come available at the last minute so it is always worth while checking in to see what is happening.... If you have an interest in reserving a kitten from a one of the planned upcoming litters, or would like to talk with us about options, or show cats getting ready to retire, please feel free to contact us for a copy of our brief prospective kitten buyer questionnaire and specific kitten availability. Note we do require a deposit of $100.00 that is non-refundable unless babies are not available from the specified litter or in the specified time frame at time of reservation (all show and breeding prospects take precedence over kittens that go as pets) and we do not ship unaccompanied in the U.S. (although most of our babies do go long distance - it just means that we get very creative when time for pick-up comes around! Most of my friends, family and business acquaintances have learned to answer carefully when I ask if they are flying anywhere near _______ in the near future!)
Also check out "So you want an Emau Mau?" on cattery page.

The first priority of our breeding program IS our breeding program. Determining which cats, if any have breeding and/or show potential can take time. Because of this, those cats deemed to be show quality or breed quality take priority over general pet waiting list. Therefore, we reserve the right to not sell any cat until the actual time of transfer. All holding fees for pets are NOT refundable unless we do not have a pet kitten available from the agreed upon litter. The determination as to whether a kitten will be available will be made no later than 14 weeks of age. If, for what ever reason there is not a baby available, then the buyer has the option of waiting for the next litter or a refund. Finding perfect homes for these babies is one of the most difficult things we do; it is a huge responsibility... We screen thoroughly and still fret until we are sure that our precious ones are in homes where they will be cherished and pampered. We know our babies and their needs better than anyone and as such, we reserve the right to refuse sale to anyone at any time and we do the matchmaking...