GC Emau's Mausaic - "Spirit"
Our Goal - Our hope is to ultimately aid in the preservation and responsible improvement of this rare and precious breed through a breeding program designed to promote overall health, temperament and appearance by using crosses between traditional and import lines.

Our Philosophy - People buy the Maus because of their exotic good looks. They fall in love with them, like we did, because of their incredible, irrepressible personalities. As a result, we believe good temperament is one of the most important attributes for a Mau, so we pay special attention to this when matching cats in our breeding program. Our breeding cats not only have the "responsibility" of helping in the preservation and improvement of their breed, they are also cherished members of our family. As such, we handle them constantly. All of our cats are used to being cuddled and loved. We start to handle and "work" with them from the moment they are born - literally.
Our Focus - We concentrate primarily on silvers and smoke (which isn't to say that we won't have the occasional bronze, it comes with the territory when working with silvers).
Our Girls - Click on Pounce to See the Heartbeat of our program, our phenomenal, incredible fabulous girls....

Our Boys - Click on Kestrel to meet our lovable, irrepressible Boys...



Getting a Mau of Your Own - Click or scroll to see how to go about preparing for your own Mau)
Getting an Emau Mau - Click or scroll to see how to go about making an Emau Mau part of your family...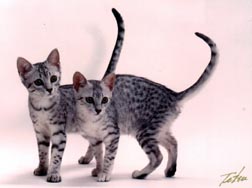 Kittens, Kittens, Kittens - click on Kyrie and Pyramid to see our current litter and some of our babies from past litters!


  So You Want a Mau of your Own?
First thing is first. You need to decide if you have a color preference. Whether you get a Mau from us or another breeder, there may very well be a waiting list. How long you will have to wait will depend on the specific availability of kittens. Remember, there are very few reputabe breeders working with the Maus and those who are, are very careful about who they let their precious babies go to - Don't be offended if the breeder asks you a long list of questions. Be worried if they DON'T have lots of questions.
Breeding cats is a big responsibility - one filled with lots of joy and heartache, as well as one not to be taken lightly. Understand that making a match fit for both the prospective kitten owner and the kitten is a top priority for the breeder. Be assured that, just as you are screening and selecting the breed and breeder that is right for you, the breeder is looking you over to assess whether you are the right family for their cat or kitten!
Once you have done your research and determined that you do indeed want a Mau and you have selected your color and/or sex preference, you need to find a breeder with whom you feel comfortable. When a Mau enters your family you enter a very small, close knit and rather elite family as well - you need to be comfortable with your contact into that world and you also need to be comfortable with the look of your Mau. Traditionals do look different from the Indian lines and both look different from the recent imports. There are no wrong answers. These factors merely depend on what you are looking for in your Mau. Take a look at the dam and the sire, take a look at as many Maus as you can and decide what look works for you. Then, of course, make sure that you are comfortable with the temperament and the health and you are set! The only thing left to do is discuss your preferences with your chosen breeder and discuss specific availability. Again, there may be a wait of some sort, but your baby will undoubtedly be worth the wait!
Note that responsible breeders will not, under any circumstances let their babies go any sooner than 12 weeks - many hold until 16 or even 18 - However long it takes to make sure that your Mau is fully vaccinated, healthy and well adjusted.


We show the Emau Egyptian Maus actively to promote our breed and to receive objective feedback on how well we are achieving our goal of meeting the breed standard. Needless to say, we are proud of our cats and the catteries behind our cats.
Registration: All of our cats are CFA registered and sold with registration papers (upon alter or if early spay/neuter not performed, upon submission of proof of spay/neuter).
Pre-purchase questionnaire: Unless we have already spoken we usually have prospective Mau owners fill out a pre-purchase questionnaire. It helps us get an idea about what you are looking for and what kind of cat will fit best in your home. If you are interested in taking a look, feel free to email us for a copy!
Deposit/reservations: We require a non-refundable holding fee/deposit of $100.00 to hold a kitten. It is, of course, refundable if we do not supply the kitten within the agreed upon time.
Contract: We require all potential "cat parents" to review and sign a detailed sales contract. Most of our kittens are sold already spayed/neutered (billed at cost to owner). For cats sold as non-breeders that have not been early spay or neutered, we require proof of spay/neuter prior to releasing registration papers. The contract is fairly detailed and states in part that the cat must not be declawed or allowed outdoors.
Available age: The age when kittens are available to go to new homes varies depending on how well the specific kitten is doing. The earliest they are available to go to their new homes is 12 weeks. Most of our kittens go between 12 and 20. At that point they are fully vaccinated (minus rabies, which I strongly suggest waiting until they are at least 20 weeks old prior to giving) and fully adjusted socially. It is NOT too late for the kitten to bond to your family. Maus dote on their people and bond so strongly that I frankly can't imagine it ever being a problem having a Mau bond. Kittens learn life skills from day of birth to approximately 8 weeks old. From the time they are 8 to 12 or 16 weeks old they learn their social skills - ie how to interact with other animals. We do NOT force wean our babies and although we do not allow access to all the cats until they receive their first vaccination, they have the full benefit of all mom can teach them until they decide that it's time to become independent. Although you can't take your baby home until he or she is 12 weeks old you can come visit and play as often as geography and your schedule as well as ours permits after they are old enough to have had their first vaccinations - Our babies love to show off!
Health Guarantee: Our cattery is FELV and FIV negative and our kittens come with a health guarantee.
The first priority of our breeding program IS our breeding program. Determining which cats, if any have breeding and/or show potential can take time. Because of this, those cats deemed to be show quality or breed quality take priority over general pet waiting list. Therefore, we reserve the right to not sell any cat until the time of sale. All holding fees for pets are NOT refundable unless we do not have a pet kitten available from the agreed upon litter. The determination as to whether a kitten will be available will be made no later than 12 weeks of age. If, for whatever reason there is not a baby available, then the buyer has the option of waiting for the next litter or a refund. Finding perfect homes for these babies is not only a huge responsibility but one of the most difficult things we do. We screen thoroughly and still fret until we are sure that our precious ones are in homes where they will be cherished and pampered. We know our babies and their needs better than anyone and as such, we reserve the right to refuse sale to anyone at any time...

Thank you for your interest in our cats. If you have further interest in the Egyptian Mau, check out the following web sites:
Breed club
 Contact us by clicking on the email address on the right: We would love to hear from you! Mailto: emau@emaucats.com